Climate change exacts heavy toll on Africa
Share - WeChat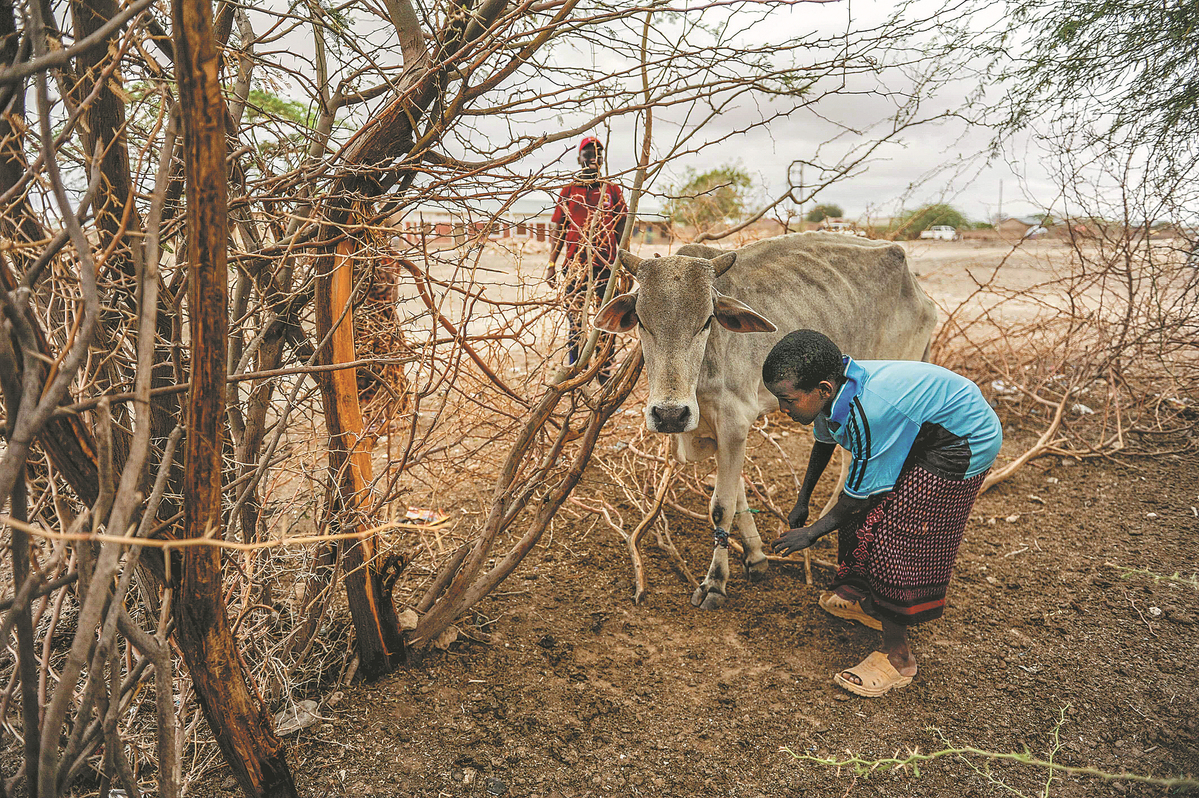 Chinese clean energy expertise seen as helping mitigate damage
Seraphine Mutindi, a villager in Makueni county, southern Kenya, used to rely on farming to support her family of six. However, things began to change three years ago.
"There has been little rain due to changing weather patterns, and the land is so dry that I cannot even grow maize," Mutindi, 35, a mother of four, from the Kithina village, said.
Having to abandon her farmland, which is less than half a hectare, she has to do manual jobs such as cleaning the house, gathering firewood and washing clothes to earn about $2 a day to buy food to support her family.
To make ends meet, they only have one meal, primarily ugali, a locally popular staple made of corn flour, at noon every day.
Mutindi's situation is not the worst in the village of 35,000 people. About 200 people in the village, mostly elderly who have lost all or the partial ability to work, have starved to death over the past two years, she said.
Kenya is just one of the countries in the Horn of Africa experiencing the most severe drought in the past 40 years induced by climate change. Across the Horn of Africa, more than 36 million people will be affected by the prolonged drought by the end of this year, including 4.5 million in Kenya, as a result of a likely fifth consecutive failed rainy season, the United Nations Office for the Coordination of Humanitarian Affairs said last month.
Worse, the region may face a sixth failed season between March and May next year, it warned. Already 9.5 million livestock have died across the region, it said.
During a visit to Garissa county in eastern Kenya last month the country's Deputy President Rigathi Gachagua appealed for international aid to help his country fight catastrophic drought.
"We are here today in Garissa to bring a spotlight to the suffering being endured by Kenyans as a result of the global climate crisis," he said. "Our resources cannot be sufficient to address the challenges of climate change."
With the increasing impact of climate change worldwide, the 27th Conference of the Parties to the United Nations Framework Convention on Climate Change, or COP27, held in Sharm El-Sheikh, Egypt, last month, gained global attention.
Following intense negotiations between different countries, a historic agreement to provide "loss and damage" funding to vulnerable countries most affected by global climate change was reached, which was applauded by developing countries.
"People who have done the least to cause the climate crisis are paying the highest price," said Mahmoud Mohieldin, the UN Climate Change High-Level Champion for Egypt. "Africa accounts for no more than 3 percent of global emissions, yet many of its people are suffering the most from climate change."
As the continent is most severely affected by the climate crisis, Africa has shown great determination to join other countries to fight climate change by developing renewable energy.
"Energy transition has become a global responsibility for us all, especially in view of the impact of climate change," Ghana's President Nana Addo Dankwa Akufo-Addo said during COP27, adding that his country is committed to increasing the ratio of renewable energy in its electricity mix, as well as exploring the potential of hydrogen and other clean energy sources.