Search continues after island landslide
Share - WeChat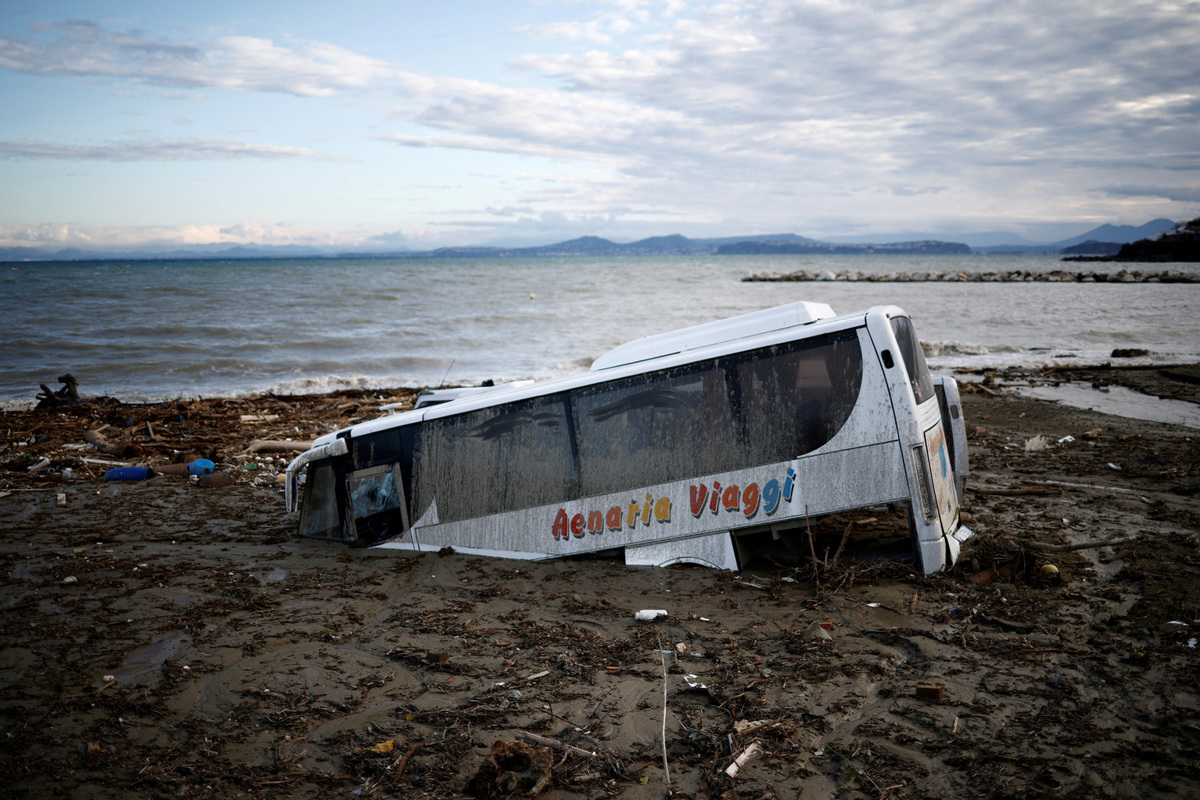 A number of people are missing and at least four people have died, following a huge mudslide triggered by heavy rains on the southern Italian island of Ischia, near Naples, early on Saturday.
The force of the landslide, coming off the side of mountains near the port of Casamicciola, in the north of the island, destroyed buildings and swept cars into the sea, news agencies reported.
Naples prefect Claudio Palomba confirmed one death on Saturday after some initial confusion over the number of fatalities. By Sunday, the toll stood at four.
In a Saturday evening news briefing, he said: "Currently, the confirmed death toll is one, a woman. Eight missing persons have been found, including a child, and there still are around 10 missing."
Interior Minister Matteo Piantedosi told reporters in Rome that the situation was "very complicated and very serious because probably some of those people are under the mud".
The Associated Press news agency, or AP, reported that rescuers were continuing to pick through deep layers of mud and debris in the search for possible victims, and noted teams of sniffer dogs had been brought in by ferry to help the effort.
Firefighters were rescuing residents from damaged buildings and helping in the search for missing persons, Italy's fire brigade said on Twitter.
"There are some difficulties in the rescue operations because the weather conditions are still challenging", Piantedosi told reporters.
Resident Lisa Mocciaro told the Ansa news agency: "We started hearing loud thunder at about 3 am then the first landslide came down, followed by a second one around 5 am. It was horrifying."
The AP reported that at least 100 people were said to be without electricity and water, and about 70 were housed in a community gymnasium. Leaders on the island said streets were impassable and residents were urged to stay home.
The landslide struck following several days of stormy weather, with officials stating the island had received nearly 126 millimeters of rain in six hours, the heaviest downpour in 20 years.
Reuters news agency reported that Prime Minister Giorgia Meloni said she was in contact with the Civil Protection Minister Nello Musumeci, "to follow the evolution of the wave of bad weather that has hit Ischia".
"The government expresses its closeness to the citizens and mayors of the municipalities on the island of Ischia and thanks the rescuers engaged in the search for the missing," she said.
Images from the scene showed buildings and cars submerged in thick mud, debris, and stones, with some vehicles appearing to have been pushed into the sea.