The outstanding art of the ordinary
Share - WeChat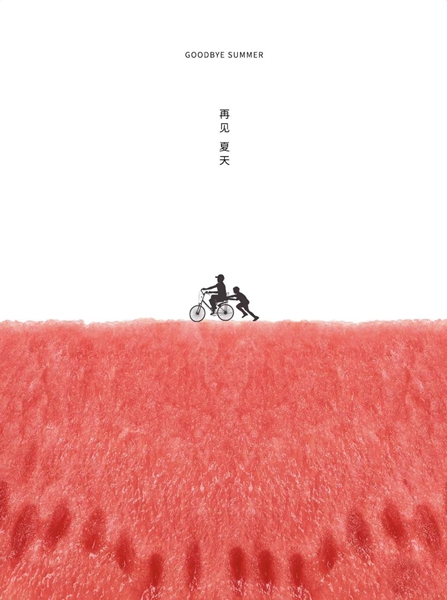 Everyday items are turned into images that reflect viewer experiences, Yang Feiyue reports.
A handful of rice, a piece of paper, a red thread and a cob of corn are turned into pieces of eye-catching art under Wei Shangsheng's ingenious maneuvers.
Different from many art forms carrying abstract and abstruse themes that might have the audience scratching their heads in search of implied meanings, Wei's works feature mundane items in the form of creative posters that convey self-evident connotations.
"I want my audience to easily associate the theme with their own experiences," says the 30-year-old poster designer from Wenzhou city, East China's Zhejiang province.
Wei's works have instantly tugged at the public's heartstrings and become an internet phenomenon.
In mid-November, China Central Television used his poster featuring an ear of corn to demonstrate individuality among the world population when the United Nations announced the figure had reached 8 billion.
"I made a little adjustment by changing the color of a single kernel using computer software," Wei says.
"I guess they thought of it as being pertinent to the theme of the news," he adds.
The small, yet creative poster is one of Wei's many works that took the public's breath away.
Wei started to share his posters on the social media platform Xiaohongshu in November last year, and immediately attracted followers.
His first post, under the title of It Is More Than a Piece of Paper That You Throw Away, was that of paper crumpled into the shape of a tree to hammer home the importance of environmental protection.
"I thought if I could get 100 fans, I would consider myself lucky," he recalls.
But the number of followers broke 10,000 on the first day and reached 50,000 in the first week.
To date, Wei has more than 400,000 followers on Xiaohongshu.
"It just hit me how the pieces of paper we are throwing away are part of a tree," says Qin Qin, one of Wei's followers.
Most Popular