BRI bridges lay foundation for opportunities the world over
Share - WeChat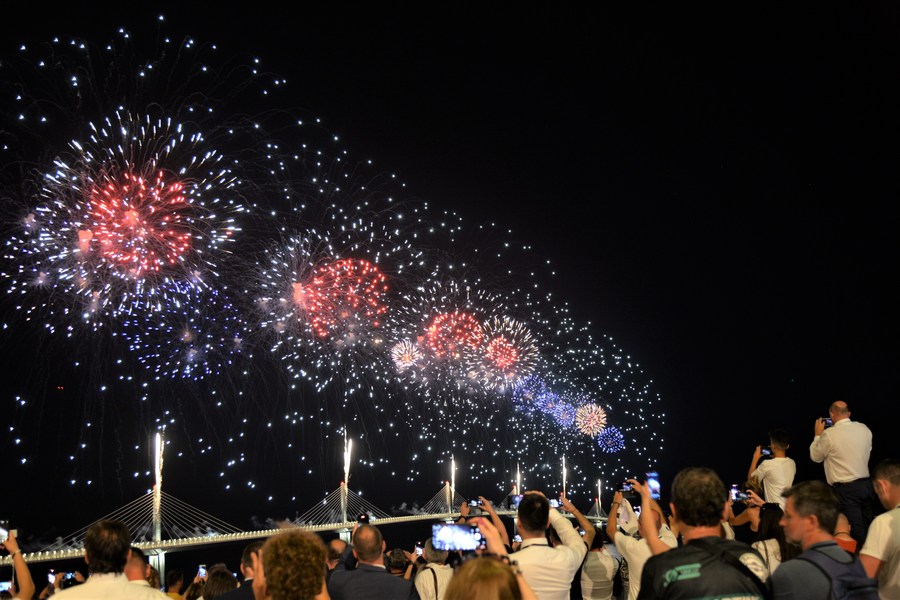 When the Peljesac Bridge, built by a Chinese company, opened to traffic in late July, thousands of Croatians, including their president and prime minister, gathered to celebrate the moment.
As a key infrastructure project in Croatia and a key project of the Belt and Road Initiative, the 2.4 kilometer cable-stayed bridge connects the Croatian mainland with the Peljesac Peninsula in its southernmost Dubrovnik-Neretva county, reducing the journey time from three hours to 2-3 minutes. The bridge is expected to facilitate exchanges between people on both sides and boost the development of the local economy. That's why the bridge's opening was marked by celebratory activities such as running, boating, symphonies, choral singing and firework shows all day.
The opening of the bridge also holds special significance for China, given that it is the first time that a Chinese company won the bid for a project funded by the European Union; it is also the largest project funded by the EU and undertaken by a Chinese company. It is rare for a Chinese company to win the contract for such an important project in Europe, which has a first-class bridge construction technology. The bridge has enabled Chinese equipment and building technology to go global.
Like the Peljesac Bridge, many other bridges in countries involved with the Belt and Road Initiative, connect not only the local people, but also Chinese people with the rest of the world for mutual understanding and win-win cooperation. From the China-Maldives Friendship Bridge in the Maldives to the Mohammed VI Bridge in Morocco and the Maputo Bay Bridge in Mozambique, from the China-Laos Railway to the Mombasa-Nairobi Railway and the Addis Ababa-Djibouti Railway, the completion of one bridge or railway after another has set a good example for practical cooperation between China and the rest of the world, while opening up new prospects for shared development opportunities.
The Belt and Road Initiative and the establishment of a large number of infrastructure projects have also become a popular platform for international public goods and cooperation, injecting impetus into the world's economic growth. The Belt and Road Initiative originated in China, but the opportunities and outcomes brought by it belong to the world. This is why its foundation for cooperation is becoming increasingly solid and its international influence and appeal are growing.
Most Viewed in 24 Hours
China Views