Encouraging a collective effort
Share - WeChat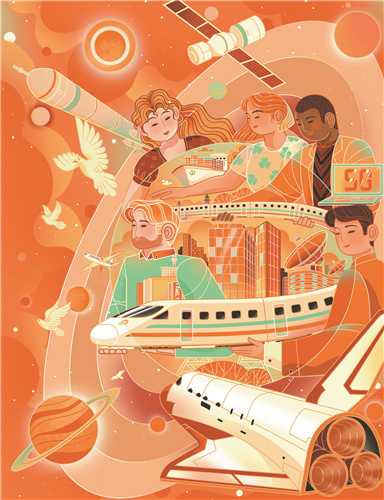 Every detail of the days economist Hu Biliang spent with a group of foreign students in a village in South China's Guangdong province a couple of years ago are still fresh in his mind.
After taking a one-week field trip to visit farmlands, local factories and schools in the village, Hu held a meeting in which the students could share their reflections of the trip.
"I didn't expect them to have a heated discussion lasting from morning to midnight," recalls Hu.
Such terms as "collective economy", "village management", "democratic practices at grassroots level", "rural industrial development" and "residents' participation in rural governance" were often repeated in their conversations, showing the students' eagerness to learn more about poverty alleviation and development in the village.
The students were businesspeople, government officials and NGO workers from developing countries, such as Mongolia, Jordan, Cambodia, Azerbaijan, Tanzania, Ethiopia, Argentina and Grenada, who had applied for postgraduate programs offered by the Belt and Road School at Beijing Normal University.
Thoughts and viewpoints on China's poverty alleviation were put forth, and rural development cases from their own countries were shared.
Hu, executive dean of BRS, listened to the discussion with great interest, patiently answering the questions they asked him from time to time.
"It was an inspiring scene of sharing, in an inclusive way, among people of different nations," he says.
The school aims to share China's experience of reform and opening-up and promote friendship and connectivity among people from different countries, he adds. "Learning from each other to build mutual understanding and respect is encouraged."
The educational wisdom of the school echoes China's vision of building a global community with a shared future and pressing for a new model of international relations based on mutual respect, fairness and justice, as well as win-win cooperation.
Cultural roots
Since 2013, the term "a community with a shared future for mankind" has been frequently mentioned and interpreted as an ideal cherished by the Communist Party of China and Chinese people.
On April 21, in a keynote speech delivered by President Xi Jinping at the opening ceremony of the Boao Forum for Asia Annual Conference 2022, he stressed the importance of cooperation and solidarity among countries and regions.
"Over the past two years and more, the international community has been working extremely hard to respond to the COVID-19 challenge and boost global recovery and development. The hardships and challenges are yet another reminder that humanity is a community with a shared future, where all people rise and fall together, and that all countries need to follow the trend of the times featuring peace, development and win-win cooperation, move in the direction of building a community with a shared future for mankind, rise to challenges and build a bright future through cooperation," Xi said.
The values embedded in the vision of "a community with a shared future for mankind" is rooted in thousands of years of traditional Chinese governance philosophy and relational ethics, according to Yu Jiaqi, director of the Institute of Public Opinion and Sentiments, Tianjin Academy of Social Sciences.
The vision emphasizes the necessity of increasing inter-civilization exchanges to promote harmony, inclusiveness and respect for differences. The commitment to peace and harmony is deeply rooted in the mindset of Chinese people, she says.
During the Western Zhou Dynasty (C. 11th century-771 BC), an official-philosopher named Shi Bo expounded his views on the importance of harmony saying that it ensures the sustainable development of all things.
"The state of 'seeking harmony without uniformity' has long been pursued by the Chinese people. They follow the instruction of values in aspects of self-cultivation, raising family and working in the service of government and diplomacy," says Yu.
The ideal of "a community with a shared future for mankind" also embraces a vision for global governance, featuring extensive consultation, joint contribution and shared benefits.
The Chinese adage, "the greatest ideal is to create a world truly shared by all" originated in the Confucian classic Liji (Book of Rites), a work compiled some 2,000 years ago. It's the cultural inspiration behind China playing an active part in the reform and development of the global governance system and its continuous pursuit of true multilateralism, Yu notes. Additionally, the tradition of valuing righteousness over benefit is also carried on in today's China.
As a case in point, the country has been helping the world to stand up to the challenges of the ongoing COVID-19 pandemic.
China is among the first batch of countries to support the waiving of intellectual property rights on vaccines and has been carrying out joint production with some developing countries.
It has supplied pandemic prevention materials to 153 countries and 15 international organizations, including 4.6 billion protective suits, 18 billion test kits and over 430 billion masks, and more than 2.2 billion doses of vaccines to more than 120 countries and international organizations as of early May, according to Foreign Ministry spokesman Zhao Lijian.
Expanding collaboration
Hu, the economist, is also a member of the administrative committee of the Belt and Road Studies Network that aims to improve academic exchanges related to the Belt and Road Initiative.
He says the initiative, as a move toward China's vision of building a community with a shared future for mankind, provides preconditions for realizing the vision by speeding up the construction of infrastructure in countries involved, including transportation, electricity and telecommunications. For instance, the transport corridors connecting China with countries that are part of the related projects will bring about safer and more efficient connectivity.
In the first three months, China's imports and exports with countries involved in the initiative expanded 16.7 percent year-on-year, with exports and imports rising 16.2 percent and 17.4 percent, respectively, according to data from the General Administration of Customs.
Wider and deeper economic collaboration helps to sustain the growth momentum for China's foreign trade, especially amid the lingering pandemic, Hu says, adding that green development, healthcare, e-commerce and food security have been highlighted as fields in the cooperation among the countries in the post-pandemic era.
Although such factors as instability, uncertainty and insecurity are seeing an increase internationally, Hu says, further cooperation among countries involved in the BRI will increase in the future.
Most Popular